The oldest active goalkeepers apart from Gianluigi Buffon
It shouldn't come as a shock to anyone that some of the oldest active players in the game are goalkeepers.
This is due to the fact that goalkeepers due to the nature of their jobs enjoy a greater amount of longevity than the outfield players.
For a goalkeeper, there isn't much running or chasing, it is a position where there is more of standing still.
This position however requires a greater level of concentration, maturity, levelheadedness and experience.
This is perhaps the reason why there have been many goalkeepers who were able to continue playing well into their middle ages.
A good example of such goalkeepers is Juventus and Italian legend, Gianluigi Buffon, who just turned 42 in January, and is still very much at the top of his profession.
Buffon still has the physique and agility of youthful goalkeepers who are two decades his junior.
At a rife age of 42, Buffon has not shown any signs of slowing down just yet, having won every major club and country title including the FIFA World Cup in 2006.
According to 90min, Buffon has confirmed his desire to keep on playing until he becomes 50.
But mind you, Buffon is just one of the oldest active goalkeepers who still play competitive matches and have refused to hang up their boots. Oooops, sorry, gloves.
5. Gábor Király
Gábor Király is famous for his grey colored bogus pants and his very prominent bald head.
As part of his fashion style, he tucks in his shirt and has the look of a man who has resigned to his fat and round belly.
Gábor Király is an old man. He's 43, actually, but most 43-year-olds aren't like Gianluigi Buffon. Most 43-year-olds are pot-bellied like Király.
Irrespective of his shabby looks, Király is still able to perform at a brilliant level whenever he is called upon.
The Hungarian goalkeeper is the oldest player to have ever featured in the European Championships, where he represented Hungary at the Euro 2016.
Király is just one of the oldest active goalkeepers who still play competitive matches and have refused to drop their gloves.
4. Robert Kidiaba Robert Kidiaba is popular for his very hilarious "bum bum shuffle" celebration.
According to Wikipedia's description, it involves 'bouncing around his penalty area on his backside'.
Apart from his on-pitch duties, he is an ambassador for the One Day charity, and showed great support for Development and Democracy during the 2015 Congolese elections.
Kidiaba is 43 and is still playing; he has played for TP Mazembe since 2002 and prior to that, he was with AS Saint-Luc.
And there are little or no hints that he is hanging up his boots any time soon.
3. Essam El-Hadary
Essam El-Hadary's club debut came in 1993. His first country appearance, for Egypt, came a little later in 1996.
Twenty two years later, at the age of 48, he is still playing for Egypt, 176 caps and a legendary status to his name.
And I can firmly confirm he is likely to hang up his boots very soon.
El-Hadary became the oldest player at a FIFA World Cup tournament when he captained his side to the 2018 World Cup in Russia, aged 46.
His longevity is second to none, and has led to inevitable records and accolades, and El-Hadary is revered in his homeland and will be immortalized with a statue in the coming months.
"The player who is almost at the same age as my daughter… I treat all my team-mates as brothers and I treat him just like a team-mate," said the veteran keeper in 2016.
"I embrace them all and I am always around them giving advice because this is part of my job as a team captain and friend. I don't make them feel the gap in the age because I believe this should be normal."
El-Hadary currently plays in Saudi Arabia, and is the first foreign goalkeeper to do so.
El-Hadary is one of the oldest active goalkeepers who still play competitive matches but is getting ready for retirement soon.
2. Marco Storari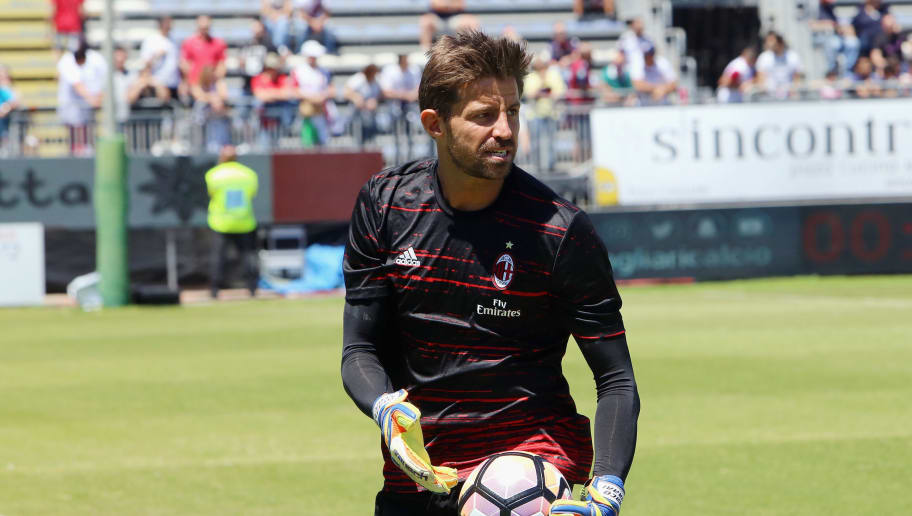 Gianluigi Donnaruma has evidently matured into a top class goalkeeper and as a result, the man considered as his backup is 23 years his senior.
Marco Storari joined Milan in 2007, and played for them until 2010 before being shipped out on several loans to other clubs.
Now he is back to Italy, aged 43. And as was similarly his previous situation, Storari is once again on the sidelines.
The keeper is still waiting to be called upon whenever there is an emergency or perhaps when Donnaruma needs a father to talk to.
Retirement is very much on the cards for the veteran.
1. Brian Jensen
Brian Jensen confirmed he decided to start his career as a goalkeeper at the age of 15 after he was mocked for being the biggest and dumbest player.
His decision soon turned out to be a wise choice as he went on to spend ten solid years at Burnley.
Jensen was a very intimidating presence in goal throughout his stay at burnley.
The man was a giant; standing at 6 foot 5, and having an incredibly broad shoulder, he was nicknamed 'The Beast'.
Since Jensen departed the Turf Moor in 2013, he has played for Bury, Crawley and Mansfield.
He is currently with Crusaders in Northern Ireland, aged 44 and formidable as ever. Perhaps 'The Beast' will never be tamed.
Read Also:
---
Follow FootyArea™ on social media for more news like this.
Register for the FootyArea™ Fantasy Premier League 2020 tournament now, and stand a chance to win amazing cash prizes from our sponsors: Register below now!!